The performance of SMG single cylinder hydraulic cone crusher
SMG single cylinder hydraulic cone crusher is a cone crusher which owns international advanced level on the basis of absorbing the world advanced technology of crushing. It is widely used in metallurgy, construction, hydropower, transportation, chemical industry, building materials industry, and suitable for crushing hard, medium hard ores and rocks.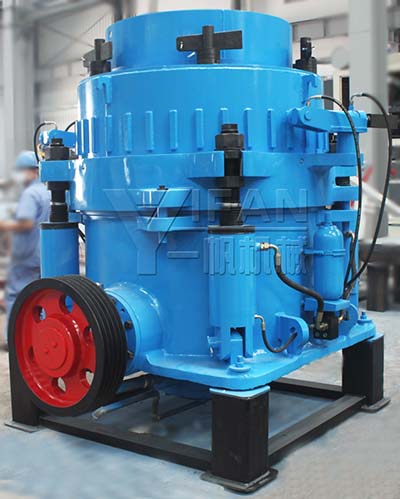 Based on all kinds of crusher machine, SMG single cylinder hydraulic cone crusher designed by Yifan engineer have various type of crushing cavity to be chosen by the customers under the circumstance of theory analysis and practical use.Choosing appropriate crushing cavity and eccentricity can meet customers' production requirement to a maximum extent and realize high yield.In the circumstance of feeding, it can realize laminating crushing and make the shape of product be better, have more cubic products.
Performance characteristics:
1.Big crushing ratio, high production efficiency.
2.The laminating crushing,the size of the product is more even.
3.Less consumption of wear parts, and low operation cost.
4.Changing the fixed can realize coarse and fine crushing.
5. Advanced hydraulic technology,realize the overload protection and adjust the discharge by hydraulic,simplifies the structure of the crusher, and reduce weight.
6.Thin oil lubrication, reliable and advanced, and improve working life.
7.Maintenance and operation are convenient .
PREV: The differences between jaw crusher and cone crusher
NEXT: Spring cone crusher
...........................................................
Please input your inquiry in below form, we will get back to you as soon as possible!
Privacy Policy