Spring cone crusher
Spring cone crusher is different from the traditional crusher in structure design and it concentrates on the advantage of varies types of cone crusher,and is suitable for the fine crushing and superfine crushing of hard rock, ore, slag, refractory materials and so on.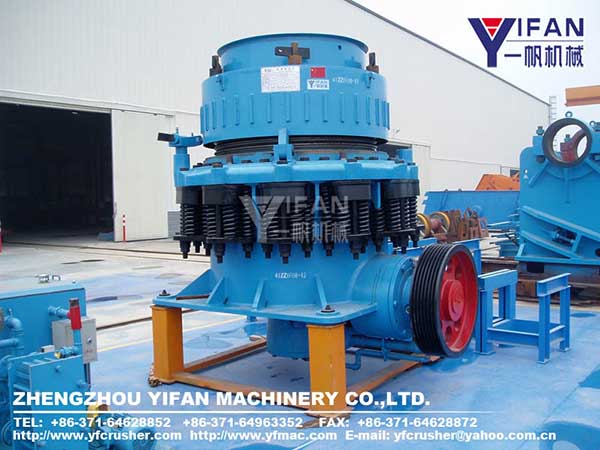 When the spring cone crusher works, the motor drives the eccentric sleeve to rotate by the belt, big belt wheel, transmission shaft, small bevel gear, big bevel gear.Axiallead of crushing cone swing reelingly under the force of the eccentric sleeve, which makes the surface of the broken wall sometimes close to and sometimes depart from the surface of rolled mortar wall in order to make the materials to be crushed through repeatly impacting, extruding,bending in the annular crushing cavity composed by static and dynamic cone.After several times of extrusion, impact and bending to the required size,the aggregates discharge.
Machine features of the spring cone crusher:
1.Reasonable structure, reliable operation, low operation cost,and it's advanced in the crushing principle and technical parameters,.
2.It has a big breaking force, high production efficiency,and high yield.
3.Spring safety system is reliable, and can provide overload protection safely and effectively .
4.It has two kinds of crushing chamber structure, and adapts to requirements of product size in a large range.
5.Hydraulic adjusting discharge is manual, and it's easy.
PREV: The performance of SMG single cylinder hydraulic cone crusher
NEXT: The Russian customers visit Zhengzhou Yifan Machinery Co.,Ltd
...........................................................
Please input your inquiry in below form, we will get back to you as soon as possible!
Privacy Policy